RAISE YOUR GAME
Bring more great shots to your game with Titleist T300 irons. Powered by Max Impact to extend maximum speed evenly across an extremely forgiving mid-sized face. A golf club designed to help any player score lower.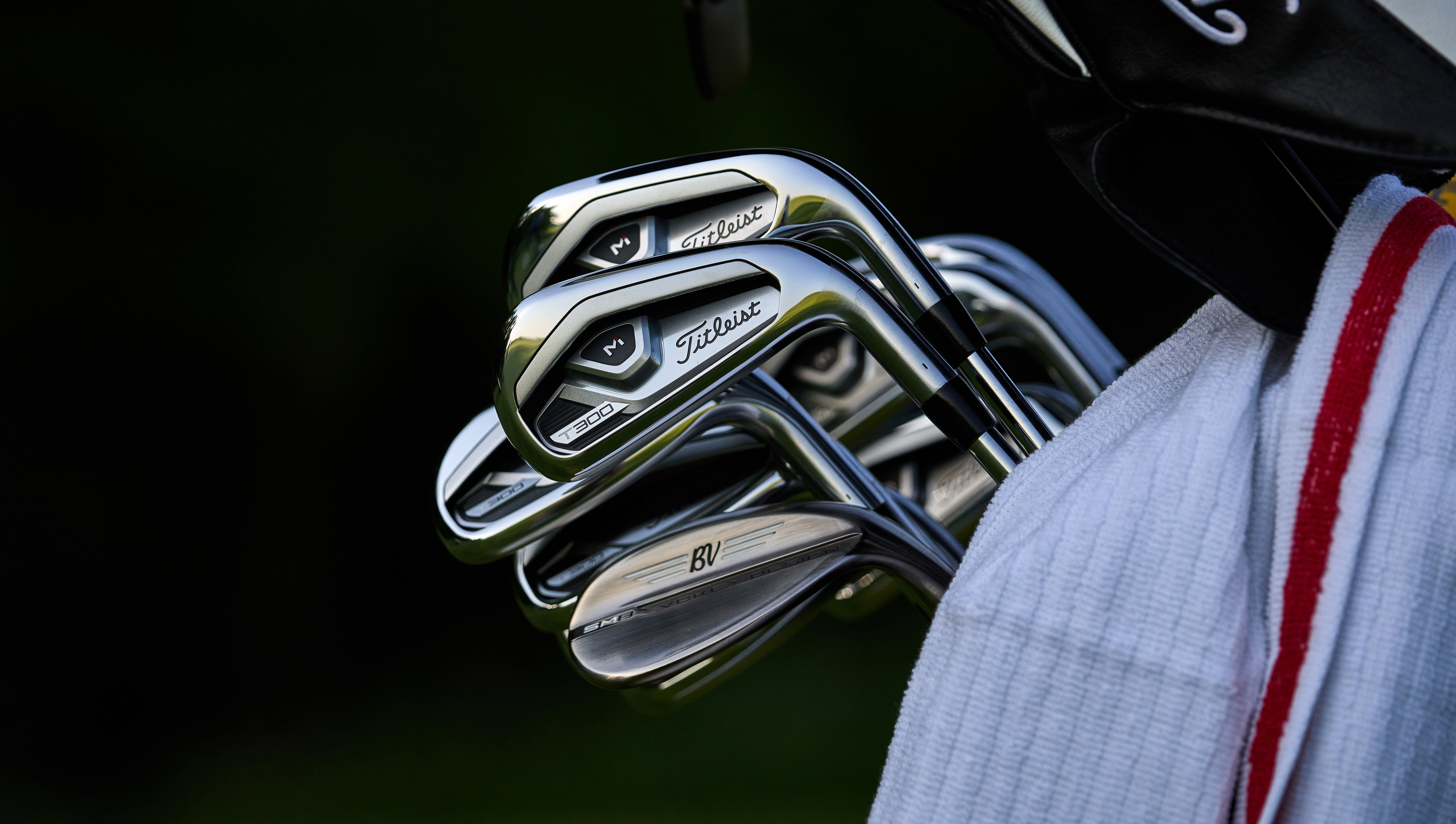 THE ULTIMATE GAME IMPROVEMENT IRON.
With 40% more tungsten and advanced Max Impact Technology, the new T300 can improve your launch, distance and shot making while providing maximum forgiveness. All in a premium chrome head with the size and shape to give you the confidence to play your best golf.
BENEFITS
High-launching distance
Enhanced forgiveness
Improved feel
Premium look
FEATURES
40% more tungsten (D18 density)
New Max Impact technology
Variable face design
Chrome plated
MUSCLE UNDER THE HOOD
Locked behind the T300 face lies a hidden power source. Our improved Max Impact technology now includes an enhanced polymer core that improves both the feel and mass efficiency of the club at impact, giving you more ball speed and better feedback.
BETTER TUNGSTEN FOR BETTER RESULTS
New T300 irons not only feature 40% more tungsten, but denser D18 tungsten made viable by a 2000ºF brazing process applied from aerospace construction. This kind of premium production, normally reserved for Tour irons, leads to a solid-feeling, advanced design that produces the optimal balance of speed, launch and forgiveness.
THINNER WHERE IT COUNTS
Proving that every detail matters, T300 now employs a variable face thickness design that is thinner towards the heel in the long and mid irons to improve performance at what is traditionally one of the least effective strike points. So even when you miss, you don't
T-SERIES SPECIFICATIONS
| | 3 | 4 | 5 | 6 | 7 | 8 | 9 | P | W | W2 | W3 |
| --- | --- | --- | --- | --- | --- | --- | --- | --- | --- | --- | --- |
| T100 | 21° | 24° | 27° | 30° | 34° | 38° | 42° | 46° | 50° | -- | -- |
| T100•S | 19° | 22° | 25° | 28° | 32° | 36° | 40° | 44° | 48° | -- | -- |
| T200 | -- | 21° | 24° | 27° | 30° | 34° | 38° | 43° | 48° | -- | -- |
| T300 | -- | 20° | 23° | 26° | 29° | 33° | 38° | 43° | 48° | 53° | -- |
| T400 | -- | -- | 20° | 23° | 26° | 29° | 33° | 38° | 43° | 49° | 55° |
| Lie | 61° | 61.5° | 62° | 62.5° | 63° | 63.5° | 64° | 64° | 64° | 64° | 64° |
| Length | 39.00" | 38.50" | 38.00" | 37.50" | 37.00" | 36.50" | 36.00" | 35.75" | 35.50" | 35.50" | 35.25" |
T300 STOCK SHAFTS & GRIPS:

TRUE TEMPER AMT RED
| Flex | Weight | Torque | Launch |
| --- | --- | --- | --- |
| R300 | 94 - 94 - 106g | 2.3 - 1.9° | Mid/High |
| S300 | 95 - 95 - 107g | 2.1 - 1.8° | Mid/High |
TRUE TEMPER AMT BLACK
| Flex | Weight | Torque | Launch |
| --- | --- | --- | --- |
| R300 | 94 - 115g | 2.3 - 1.9° | Mid/High |
| S300 | 95 - 116g | 2.1 - 1.7° | Mid/High |
TRUE TEMPER TOUR WHITE
| Flex | Weight | Torque | Launch |
| --- | --- | --- | --- |
| R300 | 103 - 127g | 2.4 - 1.8° | Low |
| S300 | 106 - 130g | 2.2 - 1.6° | Low |
| X100 | 106 - 130g | 2.0 - 1.5° | Low |
PROJECT X
| Flex | Weight | Torque | Launch |
| --- | --- | --- | --- |
| 5.0 | 115g | 1.8 - 1.6° | Low |
| 5.5 | 115g | 1.8 - 1.6° | Low |
| 6.0 | 120g | 1.7 - 1.5° | Low |
| 6.5 | 125g | 1.7 - 1.5° | Low |








MIITSUBISHI TENSEI AV WHITE AM2
| Flex | Weight | Torque | Launch |
| --- | --- | --- | --- |
| R300 | 103 - 127g | 2.4 - 1.8° | Low |
| S300 | 106 - 130g | 2.2 - 1.6° | Low |
| X100 | 106 - 130g | 2.0 - 1.5° | Low |
MITSUBISHI TENSEI AV BLUE AM2
| Flex | Weight | Torque | Launch |
| --- | --- | --- | --- |
| R | 70 - 78 - 86g | 3.5 - 2.6° | Mid/High |
| S | 70 - 78 - 86g | 3.3 - 2.6° | Mid/High |
MITSUBISHI TENSEI AV RED AM2
| Flex | Weight | Torque | Launch |
| --- | --- | --- | --- |
| L | 48 - 48 - 56g | 4.6 - 3.3° | High |
| A | 55 - 55 - 63g | 4.4 - 3.0° | High |
| R | 57 - 57 - 65g | 4.5 - 3.0° | High |
| S | 60 - 60 - 68g | 4.5 - 2.9° | High |
GOLF PRIDE TOUR VELVET 360 WHITE FLAT CAP

CORE DIAMETER:
.560, .580, .600, U.580, U.600
WEIGHT:
55g, 52g, 50g, 44g, 40g